It has been possible to have a product catalogue in Facebook and WhatsApp for some time now. This way, customers can always view your products, no matter what platform they are on at the time. But did you know that you can also use the catalogue for advertising?
Read further to find out how Meta believes you can use your catalogue for advertising and create personalised experiences for your customers.
Best Practices for Your Product Catalogue
First of all, it's important to have one product catalogue, but with different product sets. This way, you can customise the content of your ads. Below you will find some best practices by Meta to get the most out of your catalogue: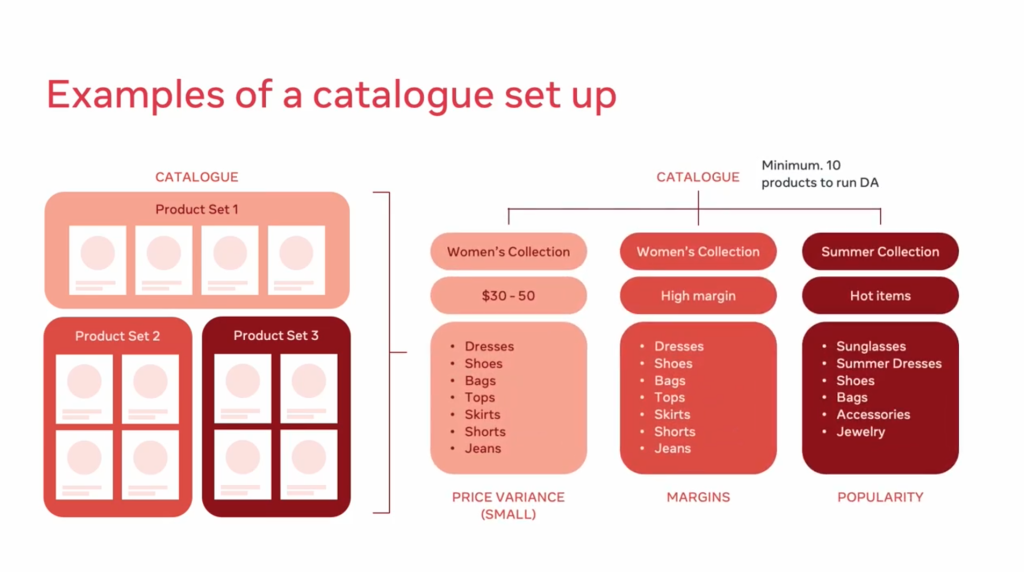 1. Wide Catalogue and Product Sets
The wider you can make your catalogue and product sets, the better. Including a number of categories in product sets can improve performance because it gives Meta's machine learning the chance to learn from different signals.
2. Up-To-Date
Having a catalogue can have many workflow benefits. Additionally, it can be used effortlessly for multiple use cases (dynamic ads or Facebook shops). So keep your catalogue updated with scheduled uploads.
3. Correct Match
Ensure a 100% match between Facebook Pixel Events by matching the content ID and making sure the correct content type is passed on (product, product group, hotel, flight, etc.).
4. Different Variants
Use item_group_id for the same product, but in different variants (colour/size). In addition to managing variants in ads, this will also make management in the catalogue manager faster.
5. Availability and Visibility
Use the availability and visibility fields to keep products in the feed and mark them for availability. For example when products are out of stock. When there are products that should not be shown in advertisements, use the visibility field to exclude them.
6. Search Event
The search event provides additional structure to product relevance, along with other standard events used for optimization and reporting. Examples are 'view content', 'add to cart' or 'order'.
7. High Quality Information
Add high quality and accurate information about your products to improve ad performance. Use unique content IDs to distinguish each product to avoid duplicate records.
8. Make Use of Columns
Consider including product category and product type as columns in your product catalogue. This provides more reporting options, delivery optimisation and cross-sell/ upsell campaigns.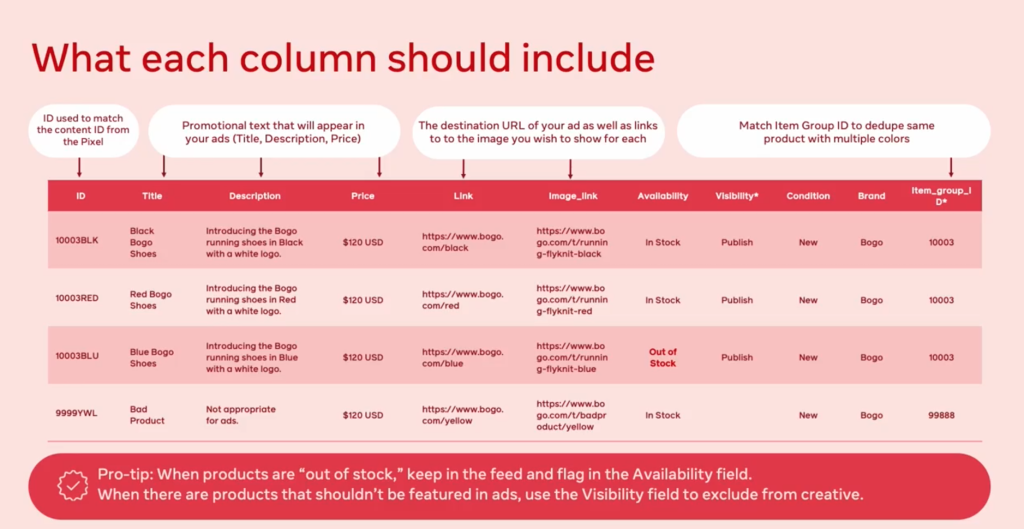 Interested?
With these tips and tricks, advertising with your product catalogue should become a piece of cake. Stay tuned for an overview of all the ways to advertise on Facebook and WhatsApp.
Do you also want an extra channel like Facebook or WhatsApp to advertise your products on? You should get in touch with us!