.In the most recent Digital 2020 October Global Statshot Report – we are seeing a rapid and noteworthy growth in social media users in the last month. With over half of the world population now active on social media.
Staying Connected
We are now living in a world more socially connected than ever before. This report revealed to us that more than 4 billion people are using social media each month. And 2 million new users are adding to them everyday.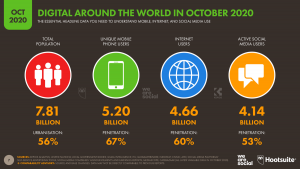 With an average of more than 14 people starting to use social media every second since this time last year. Additionally, statistics show that over 180 million more people between July and September are using social media. This is in comparison to the previous three months. We are seeing the largest quarter-on-quarter increase that any Digital Global Statshot report has produced since 2011.
The Pandemic and It's Impact
As is with most things these days. The driving force behind this rapid growth in social media users canbe attributed to the pandemic. However, this study has shown that although the user numbers of individual platforms may dip when restrictions are eased. With people returning to everyday activities and some form of normality. It is expected the overall user figures will not fall back down again as we see the lasting effects of the pandemic on people's online behaviour.
Nearly every single one of the world's most popular social platforms saw an increase in users over the past three months. Instagram saw the greatest number of new users between July and September. Even more than that of Facebook. However, it is clear that Facebook still remains the most popularly used social platform today, followed by Youtube and WhatsApp.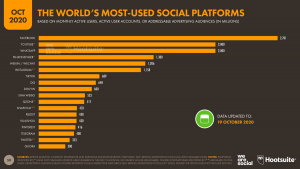 These findings have given us some great insights. We can see how valuable and relevant social platforms have become. And continue to become in the everyday lives of people all over the world.  In turn, we are able to truly appreciate why it is so important to the success of any business to utlilize this platform.
Read the full report here…
https://datareportal.com/reports/digital-2020-october-global-statshot