If you look around, you will see robots are almost everywhere. You count on them for many things in your everyday life. They are there to make your life easier and to help you stay on track with the fast-paced world. From helping you with your morning cup of coffee to driving you safely back home in the evening – they are with you at almost every step.
The same is becoming true for chatbots as well. Chatbots are part of the robots' family and are, too, here to ease your life. And they are, too, becoming a part of almost every website you use. So what exactly are they, what's their use, and what do they do? Well, read on to find out. 
What Is a Chatbot?
It happens sometimes that you browse through a website and a small robot head pop-ups on the side, asking if it can help you with something. They say their names, you see their picture – most often a cute smiling robot – and they want to assist you. 
If you start a conversation with them, you might end up wondering if it is a human or a robot you are talking to. Yes, they are that good nowadays! To stop you from wondering let me briefly explain what a chatbot is.
A chatbot is a software application that provides an online conversation through text or text-to-speech. It automatically completes an action based on specific triggers and algorithms. Moreover, it serves as the connection point between a customer and a human operator. They are these exciting new tools that help us provide a much better customer service experience.
Chatbots are designed to simulate a human conversation. Customers communicate with the chatbot by using a chat interface. The chatbot interprets the message they receive from the customer and sends a pre-set answer. You can recognize them by the almost lightning-fast response, the cute robot picture, and their names consisting of the word 'bot' or 'virtual assistant'. 
How Do Chatbots Work?
There are a few different methods used, in which a chatbot can be set to work. One of them is the pattern-matching. Such chatbots search for keywords in the customer's message and when they find an answer related to these keywords, they send it to the customer. The downside of such chatbots, however, is that they cannot go beyond the pattern set and they will only be able to send replies that exist in their system. 
Another method that can be used is through algorithms. For this method, there is a pattern for each possible question. This assures the chatbot will give the most relevant answer. With such a hierarchical structure possible, and fewer classifiers, it is much more manageable.
The third method is using artificial neural networks. The chatbot breaks down the message into different words and each of them is used as an input for the neural network. With time the neural network grows stronger which helps the bot provides more accurate replies to the common queries.  
Examples of Chatbots 
If you are still not sure what a chatbot is, let me give you a few pretty cool examples. 
With the spreading of coronavirus around the globe, many people are searching the web to find more information about it. In order to help people stay healthy and informed, the World Health Organization created their Health Alert chatbot.
To get in touch with their chatbot, you need to reach them through WhatsApp with the number provided on their website. The chatbot will ask you what you want to be informed about, like the latest news and cases or health concerns. All you need to do is send the corresponding emoji or word and the chatbot will give you all the current information on the chosen topic.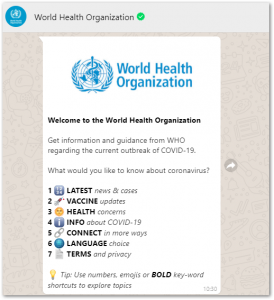 Andy – The English Speaking Bot 
 Andy is another very useful chatbot that helps you learn English in a fast and easy way. It gives you simple exercises and casual conversations to practice with. It asks you different questions and gives open-ended phrases, so it keeps the conversation going. And it even corrects your pronunciation, grammar,  and spelling.
Andy does all that in accordance with your level of English, so you can build it up from there. He is a very good example of conversational AI that helps people learn new languages. The chatbot can be downloaded as an application on your mobile device.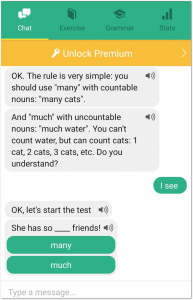 BB chatbot (stands for Blue Bot) can be found on KLM's Facebook page. When you try to reach them via Facebook messenger, their virtual assistant will reply to you and will assist you with questions about flights, bookings, cancellations, etc. 
BB is a very friendly and funny chatbot that will help you through the whole process of booking a flight. It will give you additional information you may need, and might even check the weather for you and advise you on the items you need to take with you. In case BB cannot reply to you and you need human assistance, he will transfer you to his colleagues for further help.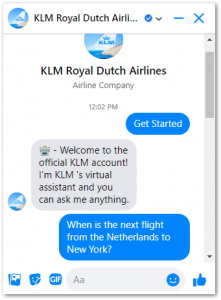 Chatbots – Better Customer Experience
There are many other examples of chatbots and their use. And there will be more and more examples in the future, with the expansion of their use. Companies are getting increasingly innovative when it comes to helping their customers in the fastest, funniest, and most convenient way.
Having a chatbot combined with live chat is one of the best customer experience strategies. It is great when customers have someone to reply to them right away with their basic questions. And still, have the opportunity to talk to a person each time the chatbot is not able to answer a more complex question they might be having. 
In conclusion, chatbots can be a very powerful addition to the customer experience strategy of any business. To extract the best out of chatbots, companies need to know how to use them effectively. Understanding what chatbots are and how to train them is the first step in creating a strong digitally-enhanced customer experience strategy. 
So get started with providing a great customer service experience, and simply click here.
Sources: World Health Organization; KLM; Andy English Speaking Bot; WhatsApp