Drive Sales and Convert Shoppers
Accessibility and ease are two things that the modern-day consumer is looking for. With technological advancements, information is a tap away and constantly flowing. Therefore, competition is steep for businesses looking to stand out. Particularly if they intend to ensure those customers are not losing interest before they make a sale. 
Today it is not enough to just be present in digital spaces. A Business must have a plan or a strategy that ensures all touchpoints customers have with them are providing great customer experiences. Furthermore, and perhaps more importantly convenience and simplicity are essential for success. Conversational commerce is not only a great way to be present the way your customers are wanting you to be, but also to convert leads into sales. 
What Is Conversational Commerce?
Conversational commerce is the practice of using digital communication between brands and a client to drive sales. This can be on messaging platforms such as Facebook messenger, live chat, WhatsApp. Or through simple text messages. 
Conversational commerce helps to make your customers' shopping process much easier. It is a great way to make sure experiences and conversions are at an all time high. This is because all the different stages of your customers' journey with your brand can be handled by your team. Here are just a few examples of exactly how it's done!
Help Your Customers Make Decisions
When a customer is browsing a website they are faced with many decisions. Sometimes this can be overwhelming and lead to them abandoning the idea of making a purchase. However, with conversational commerce one great benefit is that you are able to help your customers make those tough decisions.
With the use of an agent or automated chat, you can help guide your customer by suggesting certain products that meet their needs. By doing so you are moving one step closer to securing a sale. All the while ensuring they are staying committed to purchasing from you.
 Here is a great example!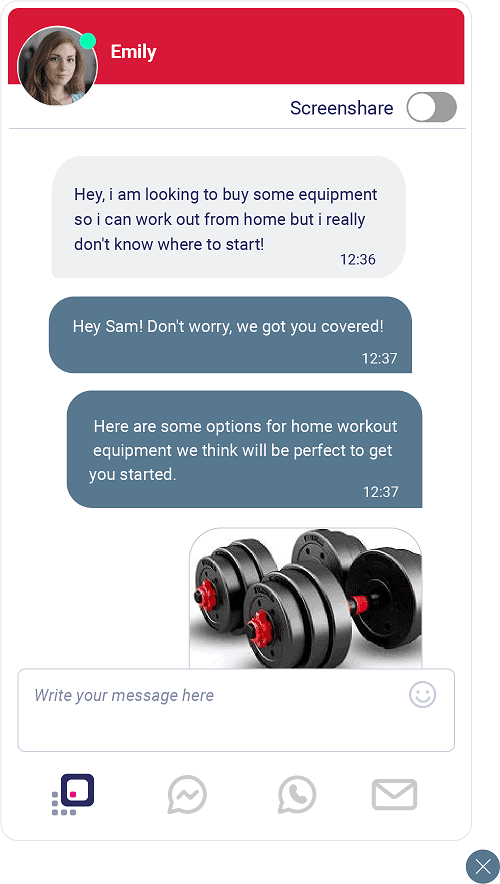 Payments & Returns for a Quick Service
Convenience for your customers is a priority. Payment through chat is a great way to ensure this. When your customers no longer have to leave a single platform to check-out you are taking away a step that could lead to them changing their mind and making the overall process much more efficient. Not only can this help you secure sales but overall customer satisfaction can be increased.
Additionally, getting refunds done quickly isn't only good for overall customer satisfaction, but also decreases the time spent by your customer care department.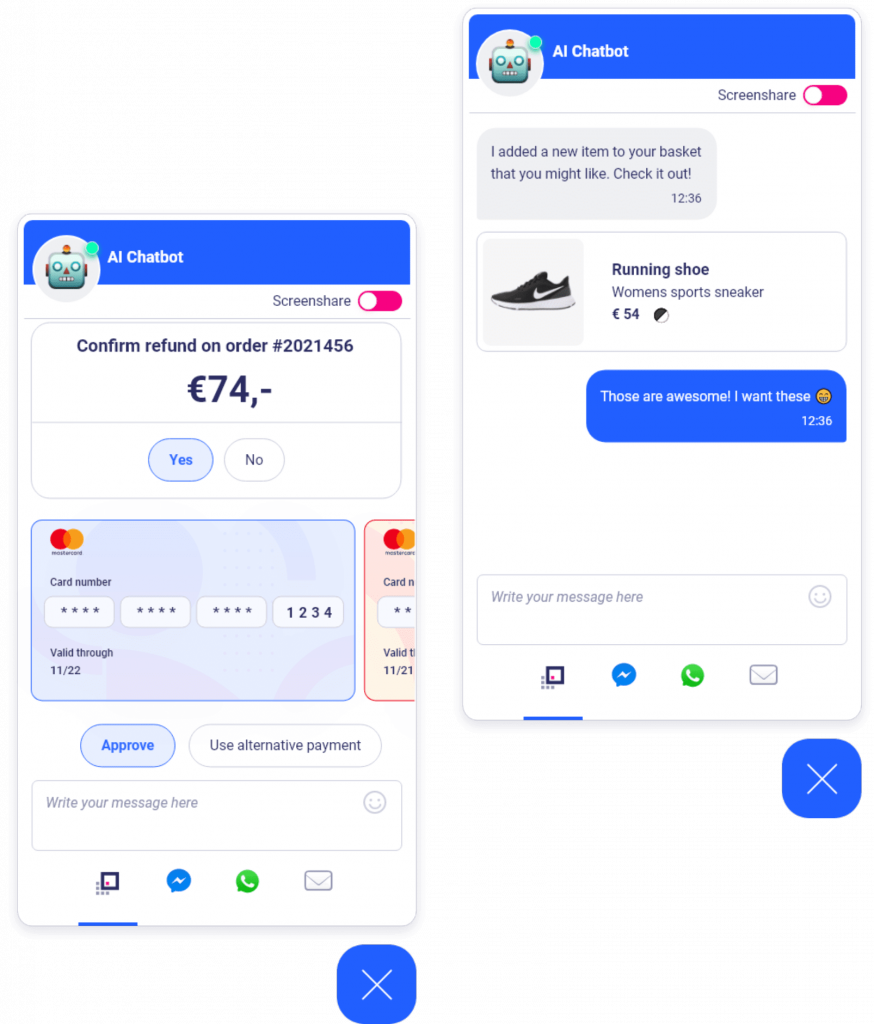 Appointment Bookings and Reminders
With cart abandonment rates generally very high, conversational commerce can be an excellent choice to direct customers to your brick and mortar store. This is a perfect example of how an indirect strategy can lead to a sale. 
By offering appointments that the customer can easily add to their calendar, you are creating a frictionless experience for both parties. No more waiting in phone queues to check availability and reminders can even be sent to give that one last push to make sure they show up!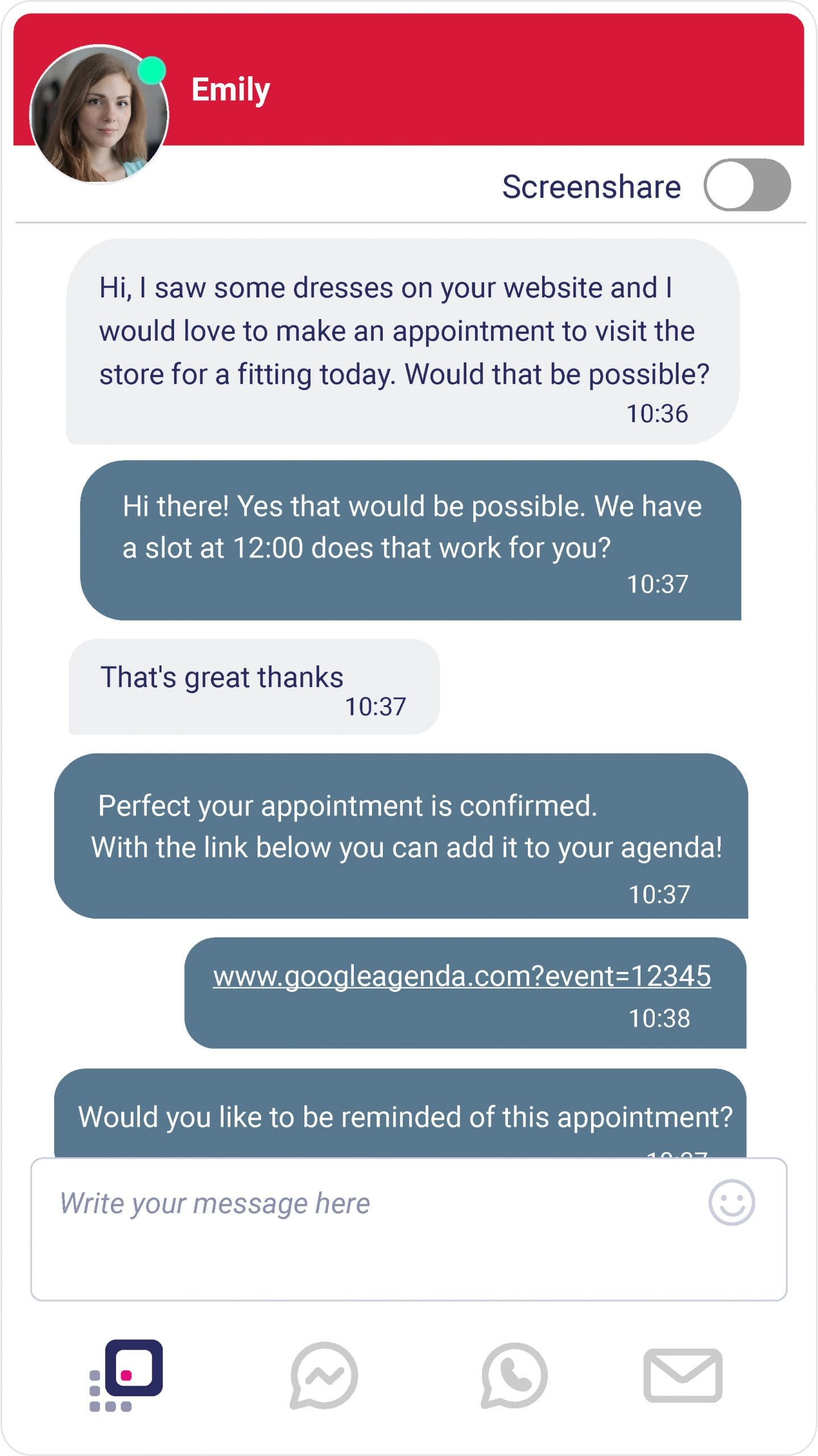 Using Conversational Commerce for Promotions and Deals
Conversational commerce can also be your helping hand in connecting you with your customers through promotions and deals. When you time your promotional content at the right time, you will be able to increase your traffic to your online and physical stores. 
However, there is a fine line when it comes to sending promotional messages. Too much and impersonalized could lead to customers viewing your messages as spam. This means that there needs to be a clear and concise strategy in place to ensure you are targeting the right customers the right way.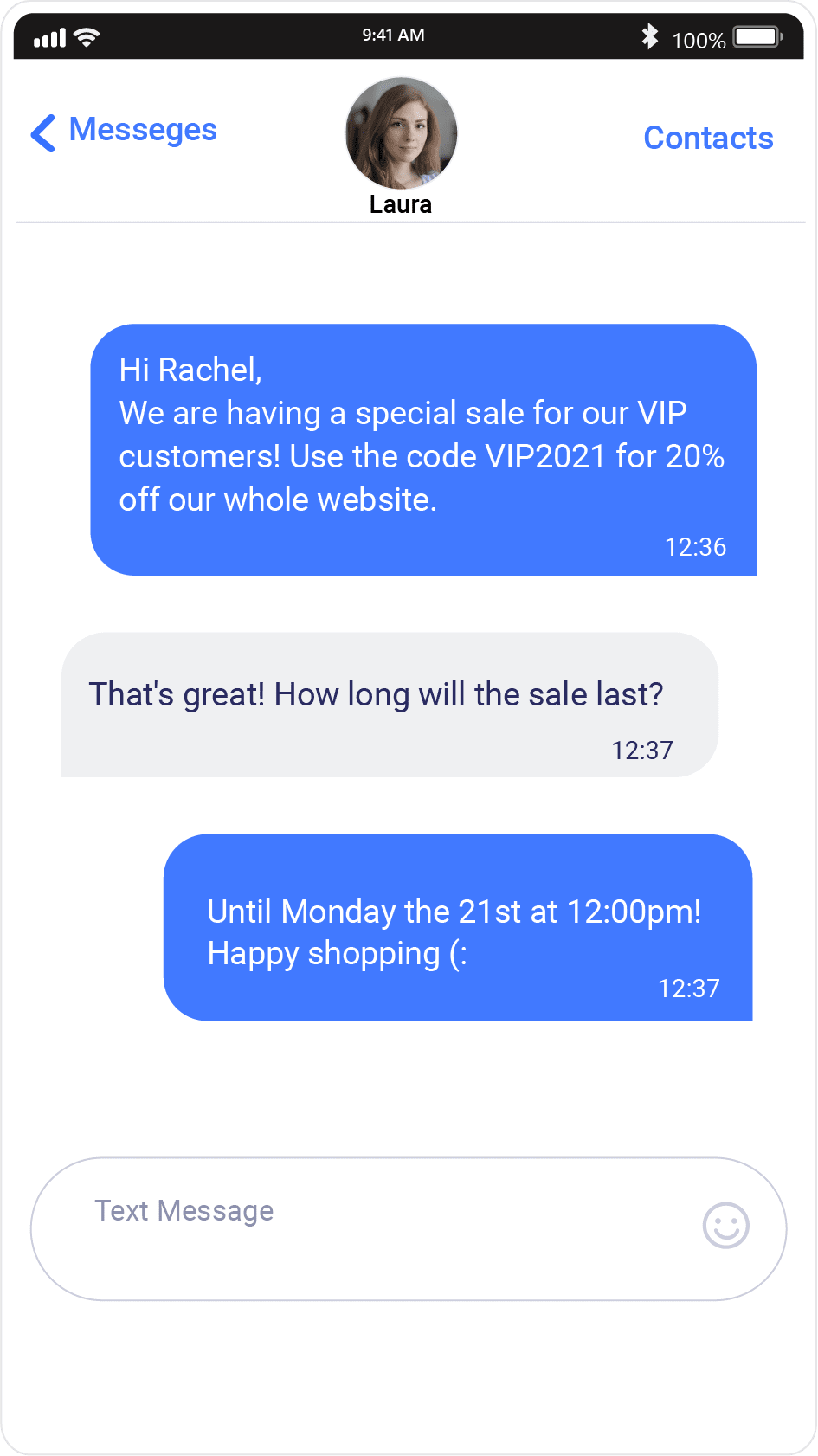 Send Updates With Conversational Commerce
Although this may not directly impact your sales, providing updates can be part of the overall strategy that will in turn have a positive impact. A small cog in the well-oiled customer service machine. When you create an experience that your customers have enjoyed, in turn, they will want to return. 
Messaging platforms are a  great way to add that personal touch to your business needs. Show customers, you care with updates on anything from restocked items to delivery times. This is a perfect way to build customer loyalty!
Conversational commerce is a tool you need to have under your belt as a business. A strategy that encompasses this will ensure you are reaching your customers on multiple levels and increasing satisfaction and ultimately leading to more sales.