The added value is created with more contact moments and longer conversations. This changes the customer service from cost center to value center.
In the previous part of 'Maximise Your Conversations' we already explained what conversational commerce exactly is. In this article we will explain why it is so important to have conversations with your customers.
The Starting Point of a Conversation
Any moment can be the starting point for a conversation. For example, prior to the purchase the customer wants to know if they can still exchange the product. During the ordering process they might have doubts about the size. And after the purchase, they might ask a question about the maintenance of the new product. The conversations are often about things that people have doubts about. Will the shoes be big or small? Can the lease car pull my heavy caravan? Did I choose the right lens for the nature photography course?
An important reason for a conversation is to remove uncertainties. Since customer service is the place where a lot of customer contact takes place, it is a good place to start listening and learning from the customer, to discover a desire to buy and to guide the customer in their purchases.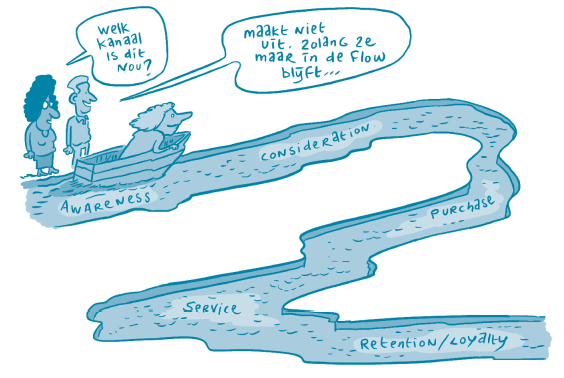 Is It Meaningful to Engage in Conversation With Your Customer?
In a figurative sense, conversational commerce is meaningful to a brand's success, especially for tomorrow's world. People are using a laptop or PC less and less for web shopping. A conversation sometimes offers more convenience than filtering through a webshop yourself from the small screen of a phone. People who are already on Messenger or WhatsApp with friends or business associates find it easy to shop there as well. Customers expect to be able to ask a question online and get a quick answer. And if there have been a few contact moments where the customer feels good, their trust grows and they become more loyal.
The Role of Customer Service Is Shifting
In traditional organizations, customer service is driven by speed: fewer and shorter calls lead to lower costs. With the advent of conversational commerce, this logic no longer applies, as the added value is created with more contact moments and longer conversations. Answering a service question is no longer the end but the beginning of a conversation.
The service center changes from cost center to value center, where extra capacity is used to generate extra sales. The best performance is not to save more costs, but to invest in growth. Because why would you let sales opportunities lie idle when they are there for the taking?
Maximize Your Conversations: Part 3
Did you find this blogpost interesting? In the next part of 'Maximise Your Conversations', we'll dive deeper into identifying opportunities for this relatively new concept. So keep an eye on our blog and social media channels! Conversation24 is also happy to help you with using conversational commerce for your business. Click here for more information on our products and here to contact us.
Want to know more already? Download the entire bluepaper.