Conversational commerce offers an advantage over a conversation in a physical store. If there has been previous contact, that information is immediately available and that makes the conversation more fun and easier.
Never before has the range of tools for digital communication been as large as it is now. How do you make the right choice for your product groups and your customers? Read more about this in part 5 of the blog series 'Maximise Your Conversations'.
Channels
Choose a channel where your customer is already on. Since almost all consumers use WhatsApp, this is an important channel. Competing tools such as Telegram and Signal are also on the rise. Are your customers active in a community on social media? Then engage in a conversation on there.
The desired response time and action also determine the channel choice. If a customer chooses to send a chat message, he or she expects an immediate response. Does the customer choose WhatsApp or Messenger? Then a response may take a little longer. As an organisation, do you want a customer to sign up for a cycling event? Then deploy a channel with a notification function and a registration function, for example the shopping app.
Automated or Live?
When do you opt for an automated chat and when for a live chat? Often the customer volume at the beginning of the customer journey is high and customers are struggling with the same questions. Then automated contact via chatbot is an appropriate choice. Later, when people have doubts and need confirmation, you switch to human contact. You find out when that moment arrives by testing. In general, the following applies: does the customer want to know more about the properties of a product? Then a chatbot works well. If the customer has doubts, then he wants to contact an employee.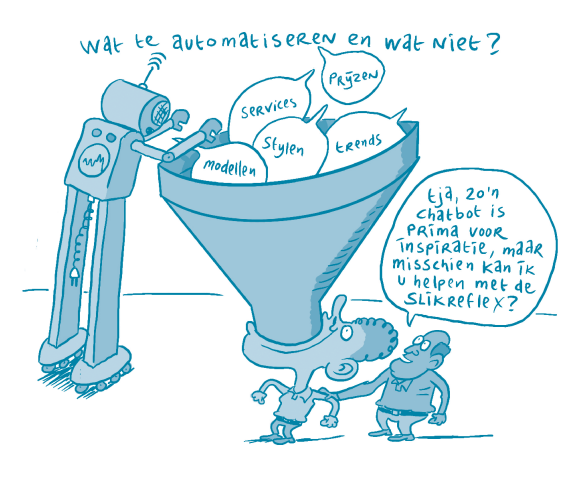 Testing, Testing and More Testing
At many companies, customer conversations are similar. For example, at a car dealership people want to choose a car and take a test drive. But they also want to pay for the car and have it serviced on time. This can be done entirely online and entirely through a WhatsApp conversation. The messages are pre-programmed and made personal with the addition of a single word. Such as: "Hi Kevin, thanks for your message. We will come and pick up your car at your home in Amersfoort tomorrow between 8 and 9".
The best way to find out which channel works for your case is to talk to customers. Once you've discovered where their preference lies, you'll practice having conversations on that channel for a few days. So, as has already been reflected in the blogs of "Maximise Your Conversations", testing is an important part if you want to use conversational commerce.
Software
To have a good conversation with the customer, employees must have access to business systems such as CRM and ERP packages. When applying automated contact, it is also necessary that the systems are integrated. This allows the chatbot to search through the data and retrieve the correct answer. Software is also needed to operate the channels. Customer contact software does not have to be complex or expensive. But it is necessary to handle chat conversations, measure response times, route calls and create reports.
Data
Data increasingly determines the success of a company. For example, they provide insight into which steps of the customer journey something is faltering. For example, there was once a grower who often sold 'no' when customers ordered banana trees. Because the inventory system indicated that there were no banana trees available. The grower lost thousands of euros in sales because of this. The tree was available, but was listed under the Latin name in the inventory system, so no one could find it.
Personal Approach
But data is also crucial for having a good conversation. In that respect, conversational commerce offers an advantage over a conversation in a physical store. If there has been previous contact, that information is immediately available and that makes the conversation more fun and easier.
Customers take it for granted in an online conversation that you already know a lot. If someone responds to a mailing from a travel company, they expect you to know that mailing. Even if the mailing is personalized and each customer is recommended different destinations in their top three. The customer may not know this and so expects customer service to know exactly what he means when he says, "I found the third vacation destination in the email interesting." So it's nice when an employee has insight into all customer communications.
Enriching the Database
Conversational commerce does not always have to lead directly to sales. Enriching the database can also be the goal of a conversation. However, always make sure that the data is properly secured. Ask permission before storing personal data and comply with the privacy law (AVG). In this way the privacy of the customer is guaranteed and the risk of image damage due to a data leak is reduced.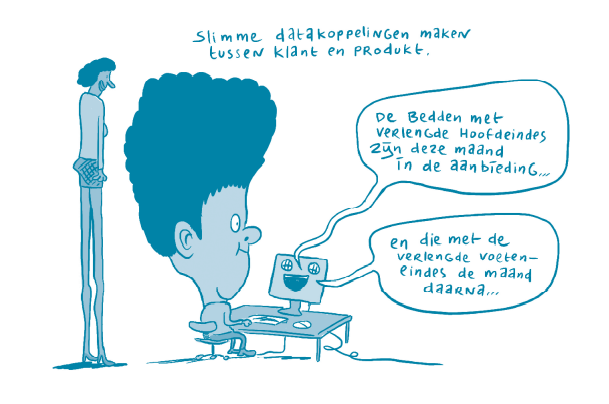 Maximise Your Conversations: Part 6
The very last part of 'Maximise Your Conversations' will focus on the insights of the experts, Conversation24 and Webhelp. So keep an eye on our blog and social media channels! Conversation24 is also happy to assist you in using conversational commerce. Click here for more information on our products and here to contact us.
Want to know more? Download the entire bluepaper.