Come up with playful ideas or experiments that you are excited about yourself: nothing is more contagious than that.
In the final part of 'Maximise Your Conversations', the insights of the experts will be discussed. What are the most important points that can be taken from the bluepaper?
The expert group that, led by Conversation24 and Webhelp, has taken the lead with the application of conversational commerce has come up with three insights:
Start small and talk to stakeholders about what you are doing. This is how you create support.
Recognise the attribution of conversational commerce: engaging with the customer contributes to commercial success.
Conversational commerce contributes to sales, but not necessarily direct sales.
Start Small and Talk to Stakeholders
Conversational commerce is a new concept that people still have to get used to. Therefore, talk to stakeholders in your company about your plans and discoveries. Come up with playful ideas or experiments that you are enthusiastic about: nothing is more contagious than that.
Support grows along with your enthusiasm. By starting with small cases and continuing to test, you build up evidence that confirms the commercial success of conversational commerce. In this way, more and more stakeholders become convinced that talking to your customer is not just a cost, but primarily adds value to the company.
Recognise Attribution
Who gets to attribute a sales success to his or her name? The more ground conversational commerce gains, the more sales becomes a success of all departments. Service, sales, marketing, compliance/security, the IT department and business: everyone who interacts with a customer contributes to a more successful sale.
This also shifts the role of customer service. Instead of handling calls even faster, they take more time for a conversation because that's where the sales opportunities are. A frontrunner in this is Coolblue. At first competitors thought: surely that is going to be too expensive, to talk to people for so long and offer so much service? But the annual figures confirm the success: in 2020 Coolblue reached a turnover of 2 billion euros, a profit of 114 million euros and an NPS (customer satisfaction) of 68.
Conversational Commerce Contributes to Sales
Good sales are important, but high customer loyalty is just as important. A customer who buys a product once contributes to good daily sales. But a customer who becomes a fan of your brand comes back more often and contributes to long-term success. Personal contact, a real conversation, with real attention and actionable advice help increase customer loyalty. In this way, digital customer contact offers a wealth of commercial opportunities.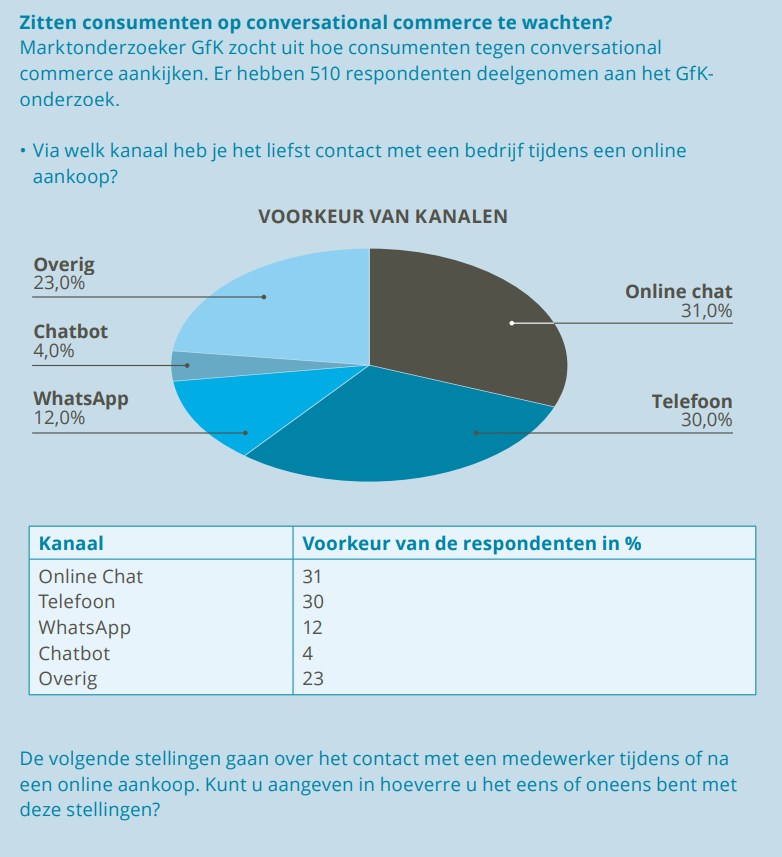 Want to Know More About 'Maximise Your Conversations'?
This is the last part of the 'Maximise Your Conversations' blog series. Would you like to read the entire bluepaper? You can download it here. In the video below we explain conversational commerce even more, using an interesting case study.
Are you convinced of what conversational commerce can do for your company? If so, Conversation24 will gladly help you with implementing it. Click here for more information on our products, or contact us directly.