The time that Instagram was only used by friends to send each other pictures is over. Nowadays, every brand has his own Instagram account. Especially since it also became a platform for shopping. The process where products are being sold directly on social media is called "social commerce", which is booming business right now. Your entire shopping experience takes place on one social media platform. And it's a trend that is going to develop even more in 2021.
So, Instagram has become a popular platform for marketing. And for a good reason. More than 90% of people follow a brand on Instagram. And 2 out of 3 surveyed people indicated that Instagram allows them to have interaction with brands. Most people also tend to have a positive perception of brands on Instagram. That's because they are relevant and contribute to the community.
Direct Messages on Instagram are a great way to keep in touch with your customers. Are you using it to it's full potential?
What is a Direct Message on Instagram?
The option of Direct Messaging on Instagram has been around for about 5 years, and in that time it has grown quite a bit in popularity.
On Instagram you can communicate with people publicly and privately. In addition to posting photos and stories, and responding to them, you can also send a Direct Message to an account. This can either be a person or a company.
With a DM you can talk to someone privately, or send them photos and videos for example. It's also possible to create a group chat. You can send DM's to anyone who follows you. And you can also send a message to accounts that you don't follow, but then the person has to  accept your request first.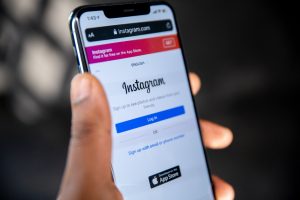 Provide Additional Customer Service
As a consumer, you can quickly and easily reach a business on Instagram. You don't have to send an email or make a phone call first. So if you are going for a multichannel strategy as a company, Instagram is essential.
The more you advertise on Instagram, the more you should react to questions and comments from customers. However, you have to be sure that you can respond to messages in time, otherwise there is no point in even starting with Instagram.
Customers may approach you directly with a question. But someone can also leave a comment under a photo about a subject that is better handled over DM. In that case, you can ask them to continue in a private message.
All things considered: Instagram is an important channel for engaging with customers and building long term relationships.
Different Useful Features
Instagram has many features you can take advantage of as a business, to make it easy to keep track of your inbox. To manage your posts, you can apply different filters. For example, mark a message if you want to come back to it later with more information. Or mark a message as unread.
Instagram also has the quick replies option. If you have a business account, you can add quick replies. This allows you to save different replies to use later. These then have a quick keyboard shortcut. You can use quick replies for the following messages, among others:
Thanking you for following or liking

Responding to feedback

Handling customer problems/frustrations

Answering FAQs

Reaching out to influencers
Just make sure it's not all pre written answers, and always make your posts personal. It may seem tempting to copy and paste posts, but it should come across as genuine. Most people want to talk to a real person and not feel like they are talking to a chatbot.
Perfect for Marketing
Every business ultimately wants to generate leads and sales. Responding quickly to customers through DM will not only be positive for them and give them trust in your company, it also contributes to the ROI of social media. Let's say, customers have seen your product or service on Instagram, but are not sure yet if they want to buy something. They want some more information first. In that case a quick and helpful response is crucial for the sales process.
In addition, through DM you can easily get in touch with brands you have always wanted to work with. Or with an influencer that you think is a good match for your brand. Make sure you are already visible to them by liking their posts and commenting on it, so they recognise you already.
And finally: be creative in the DM! For example with personalized content, or with discounts tailored to the needs of your customer.
Instagram DM Integration at Conversation24 Coming Soon
How convenient would it be to have all of your channels in one place? Well, you can! Besides Webchat, WhatsApp and Facebook Messenger, we are currently working hard to add an Instagram integration to our channels. With this new feature, chat operators can respond to DM's as part of their regular conversations. So stay tuned!
Want to know more about this, or other conversation channels that we offer? Take a look here!