A report by Harvard Business Review revealed that 73% of all customers use multiple channels through their purchase journey. People navigate through different channels to find as much information as possible before making a final decision. Choosing a retailer to buy that one product finally is just the cherry on top, and customers have a long path to walk before they reach that point.
Nowadays, we can see how technology impacted the way we perceive the world. As it became more present in people's lives, we could see a fine line taking place between our 'offline' reality and what we do online. It is all somehow mixed up. When you place an order online and fetch it at a physical store, for instance, you have technology shaking hands with a service that used to be offered fully offline. And what's more, it can also be part of an omnichannel experience. 
But what is an omnichannel experience? How can it help your business improve the customer support experience as a whole? In this article, we will answer those questions through three outstanding omnichannel examples. 
What Is an Omnichannel Experience? 
An omnichannel experience is the outcome of an omnichannel communication strategy. Omnichannel communication has the customer under the spotlight. Their main goal is to provide the same quality of communication independently from the channel chosen by customers through the different phases of their purchase journey. 
In other words, besides being available on all possible channels, businesses must ensure that the same message is transmitted. For instance, the customer must be sure to have the same fantastic experience if they reach your business on a live chat or on Facebook Messenger. 
In this case, we can even be more specific and talk about an omnichannel customer experience. It speaks to all sorts of actions related to a commerce strategy that aims to have the same quality in services on one and every channel they choose to talk to their customers.
But Isn't It Just a Synonym for Multichannel Communication? 
It's impossible to talk about omnichannel experiences without mentioning multichannel communication. They have their similarities, but multichannel only gives customers the option to find their favorite brands everywhere. 
It is, somehow, an easier way to reach a larger audience. However, differently from omnichannel strategies, those multiple channels are not necessarily connected. As a consequence, customers cannot switch from one channel to another seamlessly.
You can perceive more about the differences between multichannel and omnichannel here. 
3 Successful Omnichannel Experiences to Inspire You
Does it feel like information overload? Don't worry. We got you covered! You can chat with us to learn more about our plans and see how we can help your business grow with omnichannel communication strategies. In the meantime, we will share three successful omnichannel experiences to bring you some inspiration! 
Barkshop
Barkshop sells treats and all sorts of products for dogs. They adopted an omnichannel strategy that works smoothly online and offline – and they are eCommerce retailers, so they do not have any permanent physical store. And still, they manage to make it happen!
Dogs are their target group, and theoretically, they are not able to shop. So Barkshop did their first research to find out where they could catch potential customers. Who doesn't love a feed filled with cute dogs' pictures?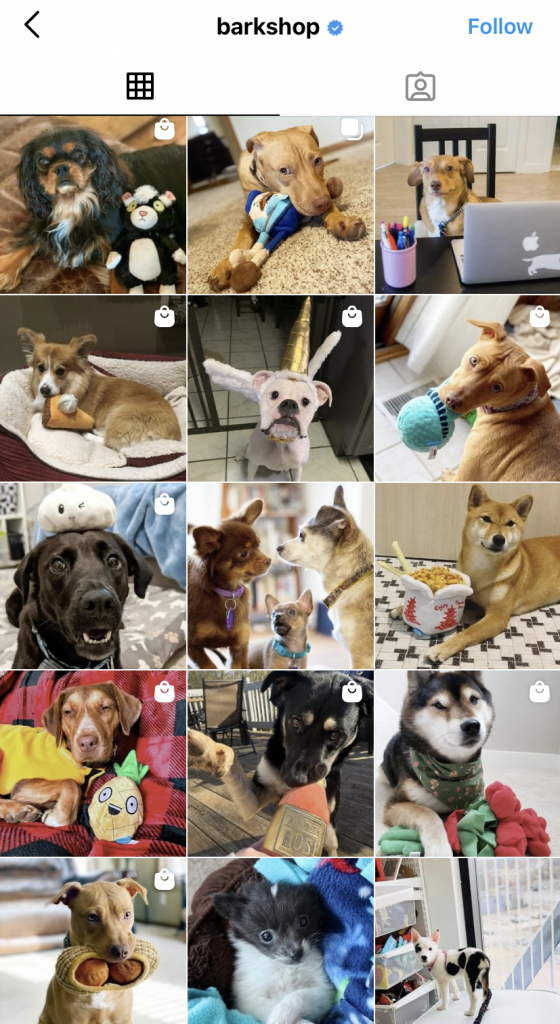 Their Instagram page has a full range of adorable dogs enjoying the products offered by the shop. You can even click on the post to see more information and purchase the toy.
Following the same idea, they also created boards by themes on Pinterest: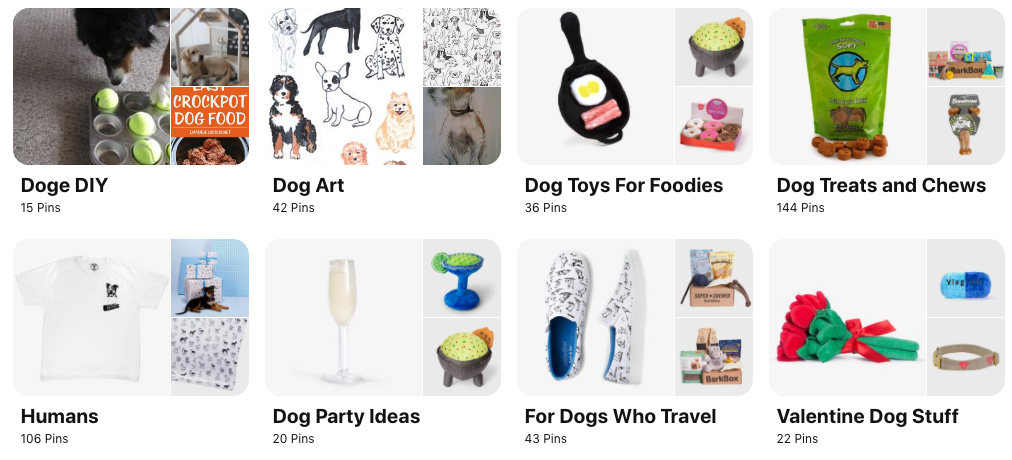 However, as they say on their page, human shopping is not a good fit for dogs. So they found a solution by creating BarkShop Live, a pop-up store where the dogs "can" shop by testing and picking their favorite products.
It is an amusing and efficient way of integrating offline and online experiences. You can buy a ticket (the price is further applied to the product chosen by the dog) and schedule an appointment. 
They film the interactions to see which toys interest them the most. Then the dog's owner can pick which ones they prefer and have them delivered to their door. 
Lastly, they also identified that customers enjoyed treating their dogs constantly. However, they sometimes lacked in time to scroll the webshop to find the best options.
To correspond to those needs, they created BarkBox, a unique selection of treats and toys. There is a variety of monthly subscription options to choose from. And they even have a special new theme every month! 
To build the best omnichannel experience, they mapped their target markets' needs and made sure to leave their mark in each one of those channels. 
Oasis
Oasis is a British fashion retail brand. Besides the local shops in Britain and Ireland, they also have a webshop and are available in 96 other locations worldwide. 
They developed their omnichannel strategy based on three essential elements:
Finding out where their customers usually hang out – online and offline;

Figuring out ways of being in those places to build touchpoints;

Making those touchpoints "purchasable."
Based on those starting points, they found a way to integrate all of their channels globally. They took the unified experience concept to the highest level. 
At Oasis' physical stores, all the sales assistants have iPads filled with information about their products. The iPads come with a checkout option, so there is no need to seek the cashier to pay for that pair of trousers. A sales assistant can handle that for you!
Those magical iPads are ready for all kinds of emergencies. Let's say you can't find a blouse that you love in size M. A sales assistant can check if they have it in stock. And if they don't, they can place an online order right away and have the product shipped straight to your home.
Also when it comes to clothing, it is always interesting to check how people pair garments. Or sometimes we just enjoy seeing references to get an idea about how a specific item might look in a different person than the one on the catalog.
Oasis encourages its customers to share their looks and tag them on Instagram. They select some of those pictures and share them on their account, giving customers a chance to take the spotlight. Still another practical way to engage shoppers. 
Furthermore, as they spotted a massive online presence from their customers, they developed their own app. The app comes with special offers, of course, but the best part of it is the integration. Customers can make their wishlists and save items for "later."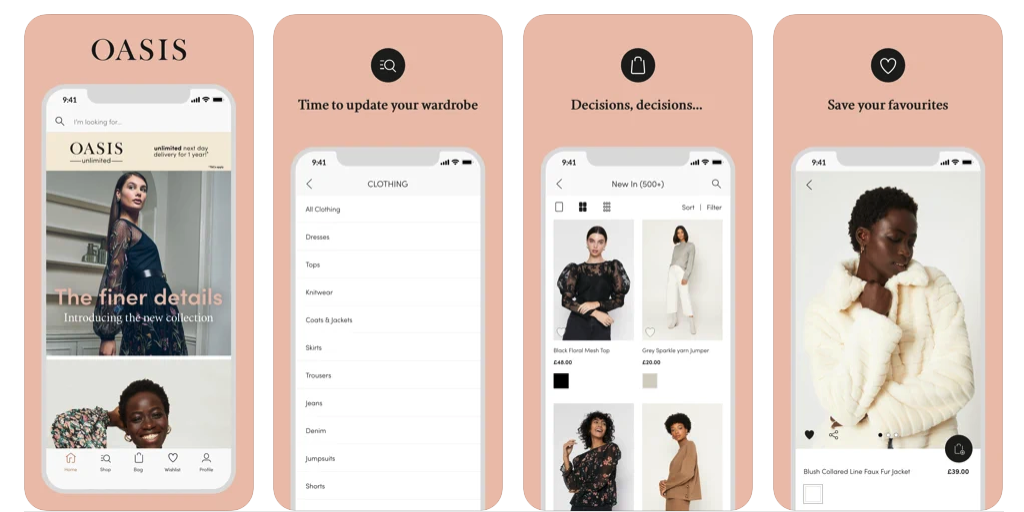 The app saves the information, so if you decide to place the order later using your computer, you will be sure to find the item there in your checkout bag!
IKEA
IKEA, the Swedish multinational specialized in ready-to-assemble furniture, has a similar service to Oasis. They also developed an app that aims to ease the shopping experience. 
The app allows the customer to scan the items themselves. Once they are done, they can simply generate a QR code and pay for the order—no need to take each item out of your shopping cart to pass by the cashier. 
IKEA also noticed that customers hesitated about purchasing certain items because they couldn't picture them over their houses. To solve the issue, they created a new VR app. The app enables customers to select a place – it can be the living room, for example – and virtually place a sofa to check how it will look like.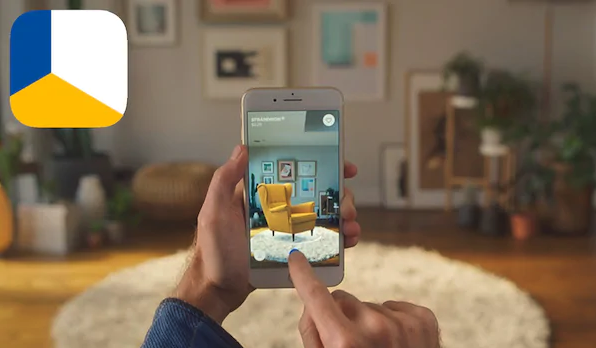 With this solution, a customer that hesitates between two models can get extra help from the app to choose the perfect one. There's even the possibility to save the image – in case they look for a second opinion. In addition to that, they can also place the order within the app once they made up their minds.
Omnichannel Experiences – Get The Best of Them to Develop Yours
Did those omnichannel experiences inspire some ideas? Keep in mind that there is no right or wrong to implementing an omnichannel strategy in your business. Those examples are just a reference that can help you identify what can work best for your company.
In any case, we are all set up to help you begin your journey with an omnichannel strategy!