A Chatbot is a virtual buddy that pops up after a moment browsing certain websites, asking if we have any questions. Their design usually looks friendly, making it almost impossible to ignore them even when we don't have anything to ask. Therefore, we can agree that instead of going through each section to find what you are looking for, it might feel more appealing to check if the friendly robot can help.
However, automation can also lead to failure if you don't prepare the chatbot properly, which leads us to ask – is there a way to create a successful chatbot? 
We already wrote about what chatbots are and shared insights into how to tailor yours to the needs of your business. Nonetheless, we can always learn from the references we get through time. 
So this time, we invite you to seek inspiration in successful chatbots. We gathered five examples from different industries that did great at the chatbot game. Check it out! 
Chatbots – a Recapitulation
Before diving into our examples of successful chatbots, let's briefly recap what it is. A chatbot is an artificial intelligence (AI) that processes data to deliver responses to requests of all types. It simulates a conversation with users through messaging apps. 
You can learn more about how chatbots work and why it is essential for business by checking this article.
Create a Successful Chatbot – 5 Examples to Inspire You
Swelly
Swelly is a poll chatbot. Are you about to purchase a pair of trainers but not sure if you want the purple or the blue one? Then you can share a picture of both with the Swelly community and ask them which one is nicer. The feedback comes within seconds! 
The bot is available on Facebook Messenger. They target teenagers primarily, and as they spend quite a lot of time on Social Media, Swelly quickly became attractive to them. And who doesn't like to give their opinion online, right?
Swelly quickly transformed into a successful chatbot. In three months, they grew from zero to 800,000 users!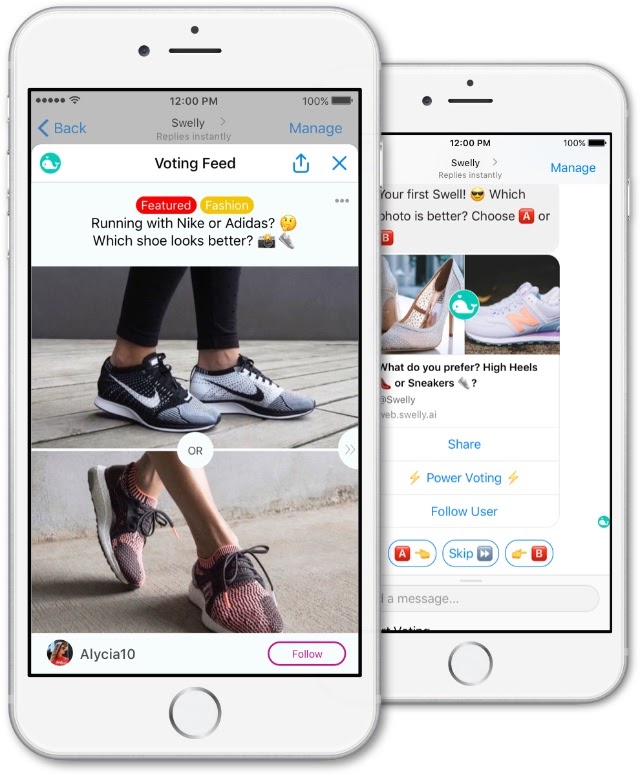 Duolingo
Learning a new language can be quite challenging. Consequently, some people seek help online or using apps like Duolingo. The app offers sets of short exercises in 19 different languages that you can do at your own pace.
Although doing exercises is a significant part of learning a new language, some people miss practicing under "real' circumstances. To fill this gap, Duolingo created a chatbot.
People, especially beginners, sometimes feel insecure about interacting with a native speaker. Therefore, Duolingo's chatbot filled the gap, helping learners picture themselves in an actual situation, like ordering a meal at a restaurant.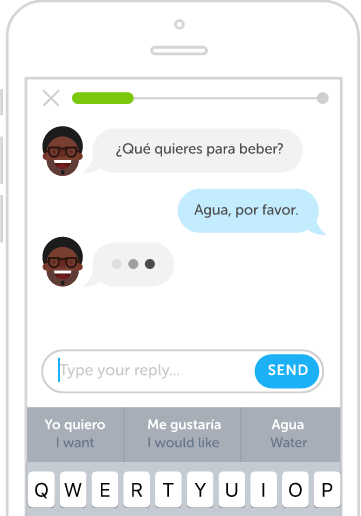 In Australia, the American multinational pizza restaurant implemented a chatbot to make the process of ordering a pizza even more convenient. Created with Facebook Messenger, it allows you to check the menu and track your delivery. Moreover, it saves the chat history, so you can easily re-order previous orders. 
Feeling extra lazy? Do not worry. The bot also accepts and does its best to interpret orders with an emoji or a single word!
You can check how it works in the promotional video below:
HelloFresh
Do you feel like going for something slightly healthier? Then HelloFresh is a better option for you! They propose an extensive range of plans. With each deal, you receive easy-to-follow recipes together with the ingredients needed to prepare them. 
No more drama over what one should have for lunch/dinner today!
However, they struggled for a moment with a high volume of incoming messages and slow response time. Willing to improve their customer support and engagement, they came up with a chatbot, Freddy.
The consumer just had to type an ingredient or recipe, and Freddy would look for relevant results on HelloFresh's blog. Moreover, Freddy offered a bit of entertainment as well with food-related riddles and quizzes.
It was a successful chatbot. According to Chatfuel, HelloFresh had a 47% increase in incoming messages and a 76% decrease in response times.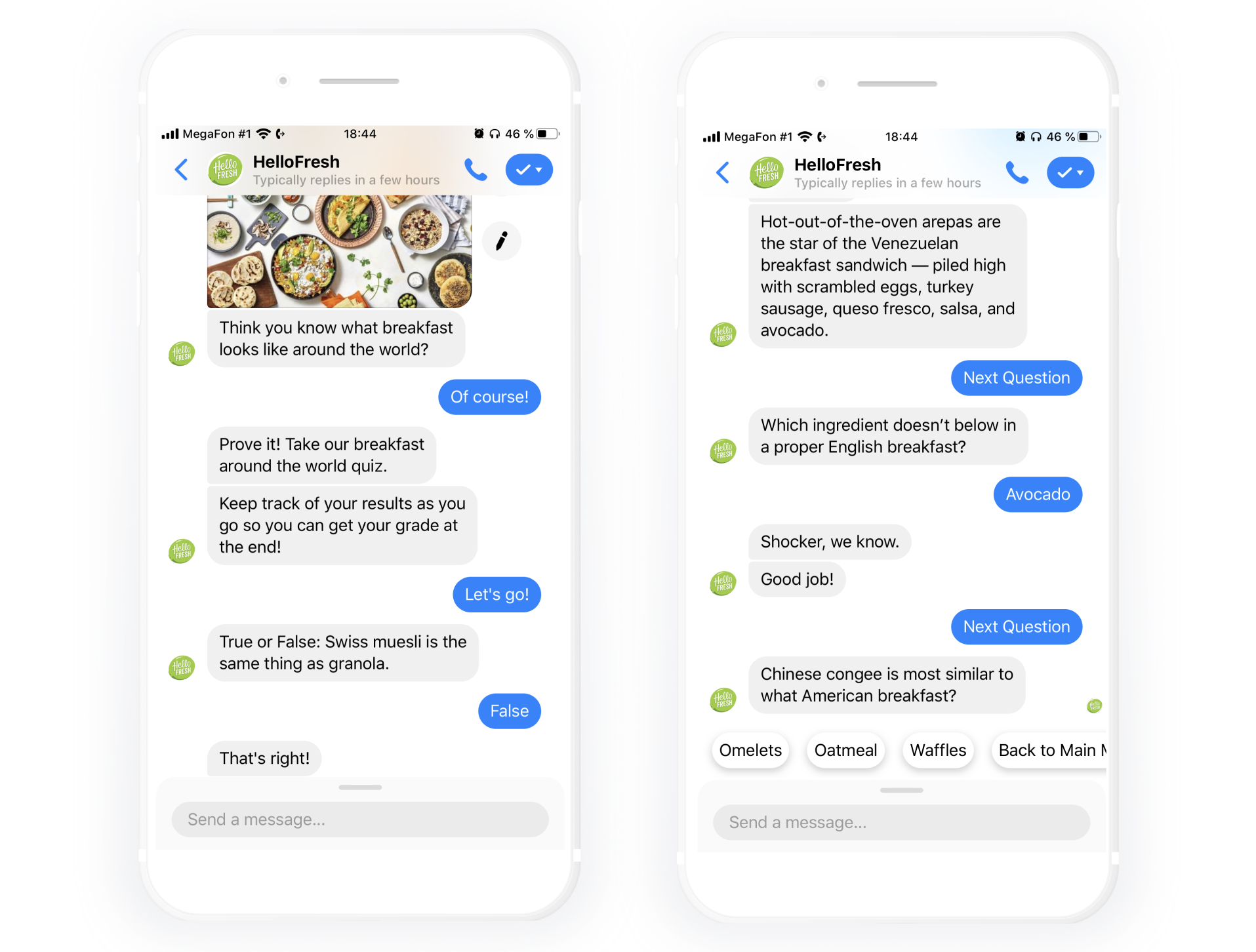 Lidl's Winebot Margot (UK)
You will have a couple of friends over for dinner tomorrow, and you realize you forgot to buy a bottle of wine to pair with the meal. You do love wine, but you are far from being a specialist. Furthermore, you are running short on time. 
Aiming to find a solution for that kind of problem, Lidl paired with Chatbots Magazine to create Margot, the Winebot. After a short interaction with Lidl's bot, UK customers could find tips on the best sorts of wine to pair with their recipes. 
You can see how the bot worked below. In the video, Huffington Post invited Janet Harrison, a real sommelier, to put Margot into a test and analyze the bot's replies.
In 2017, National Geographic released Genius, a TV show that chronicled the lives of influential personalities like Aretha Franklin and Pablo Picasso. To promote the launching of the series, they created a bot on Facebook Messenger that "interpreted" the figures portrayed on the TV show.
For instance, before Picasso's episode, anyone who got to NatGeo Facebook's fan page could chat "with" the painter. He even asked if the person would like to have a portrait painted of themselves during the conversation.
Check how the bot worked below:
The results paid off the investment. While the chats lasted around 6-8 minutes, they got 11 turns per conversation and 50% user re-engagement.
Crafting a Successful Chatbot – Aspects That You Should Put in Perspective 
Now that you have some food for thought and many sources of inspiration, we gathered three questions that can guide you through the process of crafting a successful chatbot:
How can the chatbot bring a solution for a preexisting issue your business or its customers face?

How can you personalize the content to make it sound humanlike? For example, will the chatbot understand jargon, typos, and emojis?

How accessible will it be? Will the design be user-friendly? Will the customer have to download something to use the chatbot? 
Create a Successful Chatbot – Final Thoughts
As you noticed, the use of chatbots brings many advantages to businesses and other types of digital services. However, to introduce it in your company and digitally transform your business, it is necessary to be clear about the chatbot's tasks and the expected returns. 
This process is not necessarily complicated, but it requires attention to be well executed. Now that you know more about the advantages of chatbots, which example was the most interesting to you?
Or are you ready to have your successful chatbot? Contact us!