It is time for a change in your life. After a year of complaining about how indisposed you feel, you decide to begin working out again. So the first step consists of buying basic equipment online to help you do your exercises from home. After all, this is your way to avoid making up excuses not to go to the gym.
However, when checking the dumbbells' information on the website, it is unclear if the price is for a single dumbbell or a set of two. Then you scroll the page and try to find the information on the FAQ, unsuccessfully. 
Consequently, you end up frustrated in the customer service section. There is a form to fill and, after entering the data needed, you have to wait for someone to contact you later. Therefore, you abandon the idea and check with another brand. 
Does that sound familiar to you? Businesses are now betting on conversational marketing strategies to avoid situations like the one we described. This article will discuss examples of conversational marketing and how your company can benefit from this technique.
What Is Conversational Marketing?
Before we speak about the examples of conversational marketing, let's briefly elucidate its meaning. Conversational marketing is a strategy used by companies who want to shorten their sales cycle by learning more about their customers and creating a more human and personalized buying experience.
The technique uses smart tools to enable one-to-one and immediate communication, so that leads can engage with the company whenever they want to, without having to wait.
You can learn more about conversational marketing and its benefits by clicking here. 
Four Examples of Conversational Marketing
One of the best ways to learn how the technique works is by seeing it in action. We listed four examples of Conversational Marketing below. With these examples, you will reach a better understanding of this strategy. After that, you might find some inspiration to start yours.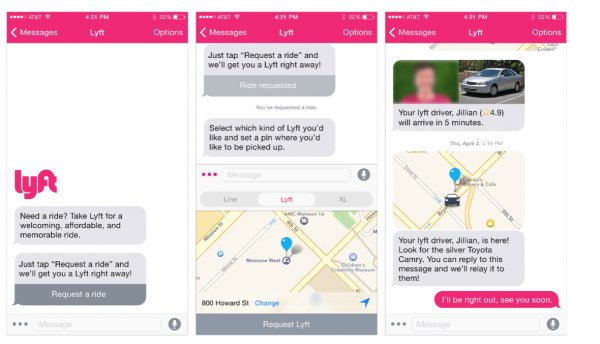 Lyft is an urban transport American app with private drivers. It is very similar to Uber: drivers register on the platform and wait for approval. Once they get checked, they can receive rides' offers from customers.
Expecting to facilitate the service for customers as much as possible, they created chatbots. The most significant advantage in that? Companies can quickly connect Lyft to channels like Facebook Messenger and Slack. 
Do you need a ride home after work? You can book it directly on Slack while you end your shift! 

JACOB 
You probably know someone who loves superhero movies or a Disney stan. So you have an idea of how loyal they are to the brand. Furthermore, considering their public spend a significant amount of time on their phones, they developed a project based on Facebook Messenger: JACOB (Just Another Cool Online Bot), also know as The Bot Office. 
How did it work? Over the promotional post, visitors just needed to use a hashtag that triggered the chatbot. They landed directly on a page where they could book tickets without leaving the app. 
During the first week after the bot's release, they reached a range of 100% people engaged. Moreover, they received 18x more comments than any other in-season social content. 
On this occasion, they prepared a video campaign to promote the bot. You can check it below to see how it worked:
Sephora and the Virtual Artist
The easiest way to chose the perfect colour for lipstick or the best tone for a foundation or concealer is by testing them directly on your skin, right? Now imagine that in a pandemic's context. Taking away the choice to try a product at a store became a struggle for beauty products retailers.
Moreover, some customers just do not have the time to grab a make-up remover to clean the skin and test a new product again until they find the perfect colour. Therefore, Sephora developed an AI-powered Facebook Bot. 
With the Virtual Artist, customers could know how the makeup would look like on them. Moreover, what was best about this bot was that customers could place their order directly from the chat if they found the perfect product.
Check how the bot worked below: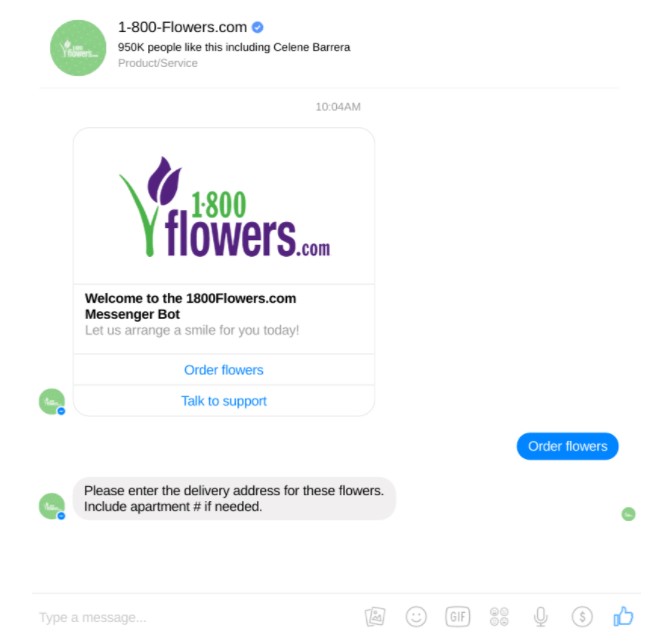 We could not end this article without mentioning one of the pioneers among the examples of conversational marketing on Facebook Messenger. So if you forgot a friends' birthday and want to send them flowers, count on this highly efficient chat for a last-minute gift.
Once you visit the 1-800 Flowers fan page, you can order flowers or talk to support. Independently of the nature of your request, customers can do everything within the chat. No need to open a new tab or app if you feel ready to place the order! 
They pointed out that around 70% of their orders come from Facebook's chatbots.
Final Considerations

We cannot deny the power of conversational marketing in our days. Companies are expanding and building long-term relationships with their customers thanks to this strategy. 
Are you feeling ready to boost your performance with conversational marketing? We can help you out. Let's chat!