Almost everyone knows them: QR-codes. You might be already using them for online payments, or you see them in advertisements. But you may wonder, what else you can use them for and if they can be useful for my company?
The answer is that you can use these codes for more than you might think. You can implement QR-codes very well into customer service, for example. This way you can serve customers even faster and improve service quality. All the ways to use them will be further discussed in this article.
What Are QR-codes?
A QR-code is a type of two-dimensional barcode developed in Japan. This code can be quickly decoded by a digital device. QR stands for Quick Response. They can store a lot of data and also find that data extremely fast, often within a few seconds. Therefore it is the perfect way to quick access stored information.
A QR-code is easy to make and safe to use. You can use them with a special app. However, nowadays most phones (iPhone and Android) have a built-in QR scanner in their camera. After you scanned the code, it can send you to anything: a website, video, photo or an app for example.
What Can You Use QR-codes For?
Despite the fact that QR-codes have existed for 15 years now, they where initially not used that much by consumers. Especially since you needed a separate app. But now that it's possible to scan the code with the camera on your phone, more people and companies have started using them. We also used them more during Covid-19. With one simple scan you can redirect them to any channel you want to help your customers quickly. A number of other ways you can use them are for:
Informing
Marketing
Service
Payments
Fun
Useful Examples in Customer Service
There are several ways of working with QR-codes to enhance the customer satisfaction, and also be beneficial to your company. For example products without a user manual. They often have a QR-code on the product so that you can find the information online. That will save you a lot of printing costs, and is better for the environment.
But you can also use the codes to view the menu in a restaurant, give feedback, access a chat function, for payments, or to share contact information. The possibilities are endless. Below are a few other examples of how you can use QR-codes:
Quicker Use of WhatsApp
WhatsApp (for Business) is a must-have platform for your company. A lot of people already use it their personal life, so why not add it to your service channels? It's easy to use, very safe because of the end-to-end encryption, and there are a lot of automated features for faster and better service.
One of them is the feature for QR-codes. WhatsApp added these to their service not long ago. This allows you to contact customer service faster. You are automatically added as a contact, if you scan the code. This way you no longer have to manually exchange a mobile number. This will provide an even more seamless customer experience.
Smart Vending Machines
To enhance the customer experience of vending machines, some of the challenges they face need to be removed. One of the challenges is the payment. Sometimes people don't have the exact amount of cash, or they use a different currency. Making an online contactless payment by scanning a QR code, makes this way faster and easier. The second one is the problem of not knowing how it works.
To solve that, you can link the QR-code to a website with a (video) tutorial. Or to a (live) chat where te customer service team can help. This chat function can also be used to report something, and the machine will be located immediately. This is a faster option than calling or e-mailing. During Covid-19, the demand for contactless experiences has increased. Adding online channels accessed by QR-codes, can reduce touches for safer use.
Touchless Catering Industry
When entering a restaurant or cafe in Covid-times, you first need a health check and registration. This is often done by scanning a QR-code and filling in the information online. But it can also be a solution for ordering and paying food and drinks. That way you don't have to touch that much and have as little contact with the employees as possible. In addition, delivery restaurants can let customers pay contactless with a QR-code which they have to scan. This way they don't have to bring a mobile payment device with them on the way. The QR-code can basically lead them to any channel you want them to go. Customers are redirected to somewhere they can pay, find more information, give a review, or ask a question in a chat-function.
Research found that 46.81 percent of respondents think that QR-codes make life easier in a touchless world. Even 38.99 percent wants to see QR-codes used more in the future.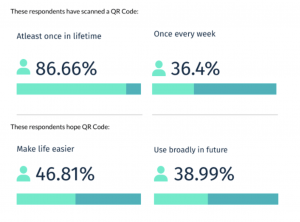 Do you want to know which online channels you can link best to your QR-codes, and improve the customer service of your company even more? Click here!