We cannot deny that WhatsApp facilitates our communication in everyday life. Since the COVID-19 outbreak, the messaging app helped us to keep in touch with people we couldn't see right away. After typing some words, we can also easily place an order or check the status of delivery from a recent purchase without getting out of the App. It is with no surprise that Whatsapp was Facebook's most downloaded app in 2020 at 600 million installs. Being such a relevant app for customers, it would be a shame for companies not to use it in favor of their businesses. Three years ago, they launched a version for business. Responding to the excellent reception it had, they released the API version a few months later. The names are similar, but there are some main differences between WhatsApp API and WhatsApp Business.
For so many people, chatbots and live chat are not a novelty. They took over the web. And guess what? WhatsApp API offers integration with a chatbot service. By combining both services, a business can develop a pretty efficient tool for conversational marketing. 
Have you considered using their services for your business? Or are you just curious to know how they work? We'll discuss the core differences between them in this article!
Whatsapp Business, a Solution for Small Businesses
You bake terrific cookies. Your family loves it, and your friends are crazy about it. They are particularly impressed by the crazy combinations you came up with and how good they taste. The matchá with white chocolate is everybody's favorite! One day a friend asks if you could prepare a small box with cookies. He'll pay for that, of course. It's an excellent idea to go with the Valentine's Day gift he bought, indeed. You agree. His girlfriend likes it so much that she spreads the word about those cookies. You start to get orders from friends of your friends and your neighbors. It looks like a business opportunity, and an investment on your part seems like the best thing to do.
WhatsApp Business comes along as the perfect solution for a small business like this one. It's a way of having a channel where customers can easily reach you. No need to pay extra fees. The app is free to download. The interface is the same as the regular app. But before someone writes to you for the first time, they will have a notification in the chat stating, "'This chat is with a business account. Tap to learn more". And what comes with that? Firstly, you have more room to present your business. It's possible to inform your opening hours and other ways to reach you if needed in the description. A logo or a nice picture of the products you are selling is appreciated! And if that applies to your business, you can also use the product catalog feature.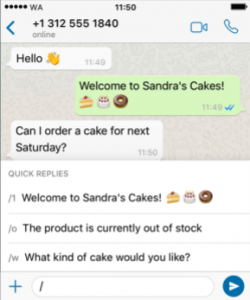 However, it supports only one user for one device, so it's impossible to handle multiple chats. It's a one-to-one solution. On the other hand, WhatsApp has tools to respond quickly to consumers and value your precious time. There's a way to create canned responses, and tagging conversations is also an option. Furthermore, the app allows you to set an away message, so customers know that you got their message and will answer later. 
Whatsapp Business API, Tailored for Medium to Large Companies
If the Cookies business expands, you'll probably run out of time to keep it by yourself. Maybe you will outsource your workforce and your customer service. You may end up signing up a contract with a company that uses WhatsApp API. This version is a paid option suitable for medium to large companies and made for integration with another system, such as service platforms and CRMs. WhatsApp Business API offers more features and is here to improve even more the communication with customers.
The good thing is that you can choose your preferred platform for the integration. So the company can have multiple agents working with a single API – and communicating seamlessly with more customers. There's even an option for opt-in to sales. WhatsApp API is perfect for quick and simple customer support. And a way to smooth your routine at work.
Just like any paid service, it comes with its complexities and conditions. Nothing to be scared of! Initially, you must prepare a document with information about your company and submit it to WhatsApp. The validation by WhatsApp can take between 3 to 14 working days.
How to Know if Whatsapp Business API Is the Best Choice for Your Company?
The first question to ask is: does your target customer use WhatsApp? The App is most popular among youngsters. If your services aim at this public, this can be a good bet. The second thing you must consider is the pricing. Which CRM do you use at your company? Do you have one yet, or do you consider changing it anytime soon? Most partners define their prices based on a charge per message or a monthly subscription.
Once you have considered those points, you'll have a better idea of whether it's a good option or not for your company. So now we will point out some of the pros and cons of the API services.
What Are the Features?
The main advantage is, of course, handling multiple chats. The API allows you to integrate your number into a digital service platform and have as many agents as you want. Besides, you can check the conversation history if needed. Just like the free version, the labels are available and the option to send customized messages too. Moreover, you can share documents and measure business outcomes through the data collected.
What Are the Limitations?
As we spoke about before, it's a paid service that demands approval. Respecting the app's policy, customers can only receive messages from you if they consent. Even though you can send messages to an unlimited number of contacts, no promotional broadcasts are allowed. For that reason, WhatsApp defined two messaging methods with different costs:
Session messaging

: After your customer sends their first message, you have 24 hours to reply without any content limitations. These messages are free of charge.

Template messaging

: WhatsApp cares about the massive amount of spam a customer can get. And they want to avoid it. For this reason, they established template messaging. Those apply for messages sent after the 24-hour window ends. Remember that the templates should be approved before by WhatsApp, and, again, promotional text is forbidden. Information about a shipping update or a canceled flight goes under this category.
Here's an example of template messaging from The World Health Organization WhatsApp Hotline for Covid-19: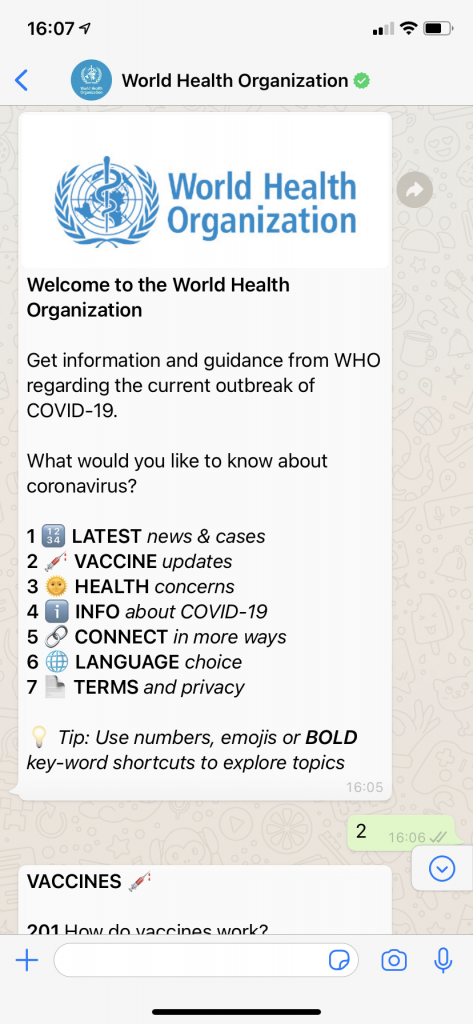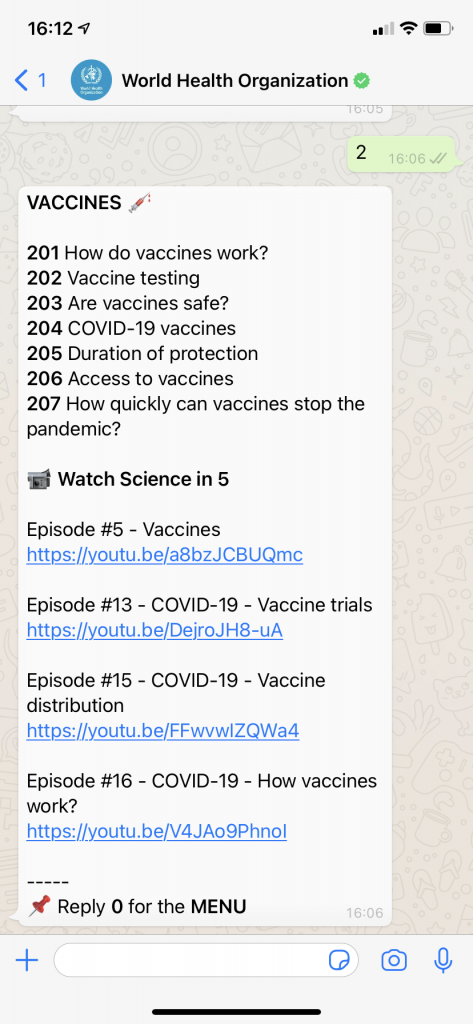 What About the Last Whatsapp Update on Privacy Policy?
If you are a WhatsApp Business user, nothing will change. But the latest update brought more advantages for WhatsApp Business API. They now offer a hosting service. Instead of using your own or through a provider, now you have the option to use a Cloud-hosted WhatsApp Business API. By going for this option, you can have a faster implementation and a lower maintenance cost. It's also a suitable option for data storage, as the WhatsApp server will store them. 
For individuals, nothing will change either. End-to-end encryption still protects the messages and calls made through the app. WhatsApp won't send your personal data for advertising or other purposes.
In the light of the stir caused by the last WhatsApp update, they also developed a biometric authentication for the desktop version that should be released soon. 
And if you feel ready to try WhatsApp for Business, contact us!
Source: WhatsApp Business and WhatsApp Business API