The world of customer service and how it is today, looks very different than 10 years ago. The term customer service has also changed quite a bit. Especially now, due to the many changes that necessarily needed to take place this last year and a half.
Back then, if you didn't offer optimal customer service, it had a lot less effect on your brand than it does now. The number of communication channels you can use for your customer service has also grown a lot in recent years.
The question rises: What does good customer service look like today?
Customer Service Then and Now
The year 2021 will be the year of opportunities. Customers will contact businesses across multiple platforms and expect a positive, personalised and seamless experience. From the first moment of a sales or marketing interaction, to the moment of a purchase, to aftersales. Now, companies must integrate service at every interaction in the customer journey. Companies that do this, will thrive in the upcoming years. Here are a few trends that define the customer service landscape as it is today.
The Rise of Messaging
Nearly a third of consumers sent a message to a company for the first time in 2020. Also, interactions with automated chatbots have increased by 81% in 2020.
There is a need for fast, personal and secure communication. So it's no surprise that customers and businesses are increasingly turning to messaging. Both LiveChat with real people and chatbots are a success. Especially among young people, the use of social messaging apps is on the rise. 53% of companies added messaging to their communication channels in 2020.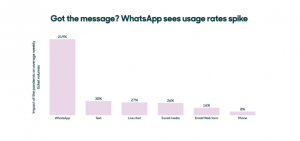 A Bit of Empathy in Your Customer Service
It is no longer enough for companies to offer fast and friendly service. In times of uncertainty, consumers want to buy from companies that have empathy for customers. 66% of consumers say they are more loyal to a company that is understanding when a customer has a problem.
Customers also want the company's values to match their own. That means, for example, that companies are socially engaged and prioritise diversity, inclusiveness and equality. Want to know more about empathy, and why it is a secret weapon in conversational commerce? Then read this article!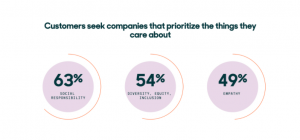 Omnichannel Communication Is Here to Stay
A true omnichannel approach means providing a seamless and consistent experience across all your channels. Customers don't just like being able to reach companies anytime, anywhere. They also expect, and demand it. This goes far beyond simply offering LiveChat on your website.
Customers want to be able to reach your company on the platform they want. Whether that's Facebook, WhatsApp, Instagram, LiveChat or email. With the right approach, you can offer your customers a unified customer experience and treat all your service channels as equal.
Personalisation Is Key
Data supports the fact that consumers want a friendly, efficient and personal customer service approach. And more and more software is able to perform this type of personalisation. But that means consumer expectations will also rise. Recent research has shown that purchase decisions are no longer based on price or quality. They are now more based on how a consumer has been treated by a company. The more personal you approach your customers, the more satisfied they will be. And it's more likely they will return to your company.
Would you like to have the best possible customer service, where your customers can always rely on? Click here to learn more about what we offer.